This article was first published in January 2019 on Yuri Litvinenko's personal blog. It has been expanded and further edited to better fit the 30pin style.
Were personal computers ever personal, in a literal sense? HP was once so sure they were, they put hundreds of millions of dollars into their worldwide ad campaign, with a slogan "The Computer is Personal Again." As adverts rolled by, actually personal computing ended up on phones and across the Internet while smart TVs and consoles took the household entertainment to themselves. The shift eventually made people disregard PCs in general, as there weren't many reasons to care about them outside of work. After all, it took a forced global switch to working from home to make Windows 10 usage jump 75% year-on-year.
PCs (in an "IBM PC compatible" sense) essentially made a loop back to the 1980s, when they were only interesting to companies and hobbyists. That contrasts with the way computers were sold just a few years later, as a multi-purpose machine for the entire family, the one which can be used for work as well as leisure. The surge in media capabilities coincided with a set-top box boom of late 1990s—and, since computers could now do so much, wouldn't it make sense to make them a prime home appliance?
And thus, the idea of a "home theater PC" entered the collective mindset of users and manufacturers. They were making computers fitting a media rack (in both style and physical dimensions), coming up with ways to control them from a couch, and generally make them a little bit friendlier than their desktop counterparts. The idea was to replace all specialized media appliances in a household with a PC-based "media center."
Was the end goal ever reached? Not really, aside from hobbyist projects and select showcase models. And yet, these PCs represented a prominent image home computing was trying to differentiate itself with.
Paint It Black (And Sell It for $4,699)
By the year 2000, the computing industry has been toying with the "media PC" concept for quite a while. CD-ROMs allowed distributing digitized audio, video, and photos, which led to the popularity of the concept of "multimedia." The selling point of "multimedia" was the combination of several types of content—for the most part, text with sounds, pictures, or low-quality digital video.
At that point, multimedia wasn't going to disrupt any established audiovisual industries. (Multimedia CD companies were chasing the clientele of paper encyclopedia publishers instead.) Still, humble attempts at bringing computers closer to the media rack were made—notably, by Apple rather than PC manufacturers. In 1993, Apple released the Macintosh TV, a modification of one of its all-in-one Performa models which, thanks to a built-in tuner, could also replace as a TV set. For that purpose alone, Apple made the make the Macintosh TV in black—the main (if only) color of contemporary A/V equipment, and a bold, unique color for any computer in the 1990s. The TV-enabled Mac failed, but the trend of making multimedia computers black persisted for quite a while.
The Destination, presented by Gateway 2000 in 1996, was black as well, complete with a gold logo which mirrored the color combination of many concurrent pieces of home equipment. Instead of an all-in-one form factor, Gateway chose to ship the Destination with a 31-inch monitor, a huge living room display for its time. The Windows 95 PC, which cost up to $4,700 per the New York Times, packed a beefy 120 MHz processor and came with a Field Mouse, an input device which combined a TV remote with a trackball. (A predecessor of Apple Siri Remote if you must.)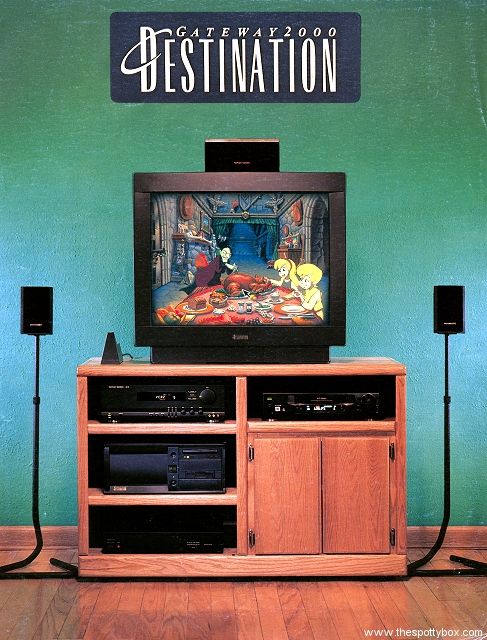 While Gateway 2000 was trying to take over all the home media equipment at once (while being sold as the presentation equipment to schools and businesses as well), some devices by other PC manufacturers were a bit more focused. Namely, the iPAQ Music Center and HP de100c were taking advantage of PCs' newfound ability to rip music CDs and compress them for storage. Expensive yet limited in their functionality, neither them nor their direct successors gained any foothold.
Microsoft Gears Up, PCs Get Prettier
The early 2000s marked the mass adoption of DVD, in part thanks to Sony's PlayStation 2. Before Apple entered the scene with the iTunes Store, Sony was in an unique position as a conglomerate of tech and media companies. It comes as no surprise they pushed digital media across plenty of their product lines, including PCs. And, since they were still interested in pushing the MiniDisc format, some of their VAIO computers had both DVD and MiniDisc drives and had some neat looks to boot.
Vertically integrated companies weren't the only ones interested in building a media PC. Barebone PC configurations, made mostly by Taiwanese manufacturers, let people assemble their own computer jukeboxes. Barebones included everything but RAM, a hard drive, and, in some cases, a processor in a partially assembled platform. For DIY enthusiasts, they represented a chance to build a compact, good-looking PC and tune it to their needs.
One of first configurations of its kind was MSI's MegaPC. Unlike more utilitarian barebone systems made by Intel in 2010s. the MegaPC and its successors had a front-panel display, could play music with actual PC turned off, and were successful in shaking off the beige-case legacy.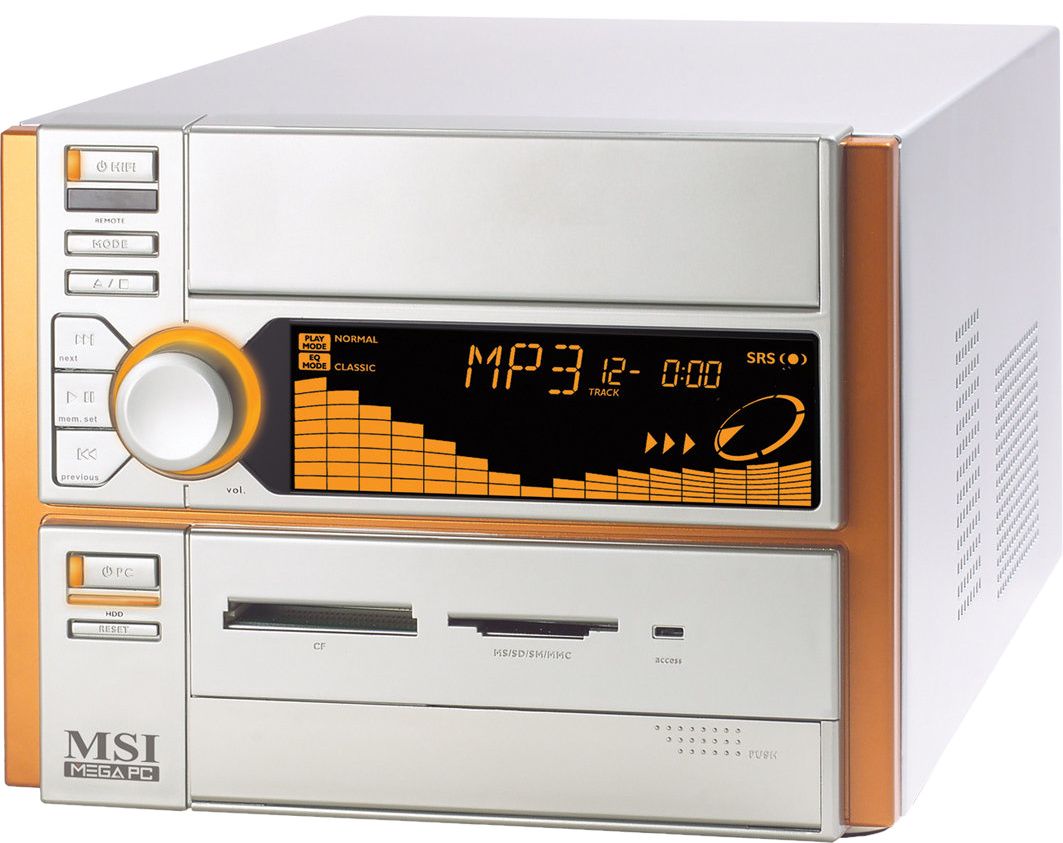 Barebone computers—most notably, Intel NUC models—are still relatively popular, and those who want to build a computer from scratch can now choose from a variety of compact cases and motherboards. Amusingly, it almost looks like a PC styled after Sony Ericsson Walkman phones, despite those phones not being introduced two years later.
While PC building community was excited about attractive hardware, Microsoft had its own plans on the software side of things. Released in 2002 and updated over the course of three years, Windows XP Media Center Edition was a modified desktop OS with several new applications bundled, The key one was Windows Media Center, a media hub designed specifically for a TV screen. While being heavily marketed, Windows XP MCE was only available to select few licensed manufacturers. The list of companies and countries expanded release after release, but still, few official Windows media PCs were built. As for power users, they were left relying on third-party or homegrown solutions.
At the same time, Microsoft was also craving for tighter control over the specifications of media PCs. The company set the specification for a Windows media remote, complete with a green, bubbly "flag" button which would invoke the signature ten-feet UI. Microsoft introduced some first-party media PC hardware as well, such as remotes and a media keyboard. Microsoft has also pushed for creating "Media Center Extenders" for streaming videos from a Windows XP MCE machine. These extenders were made as TV set-top boxes as well as software solutions for the original Xbox and Xbox 360.
The next version of the Media Center, released alongside Windows Vista in 2006, was available directly to consumers as a part of some retail versions. That version, as well as the one bundled with Windows 7, was the first made-for-TV PC shell for many people—especially as notebooks became prevalent and HDMI made connecting them to TVs a breeze.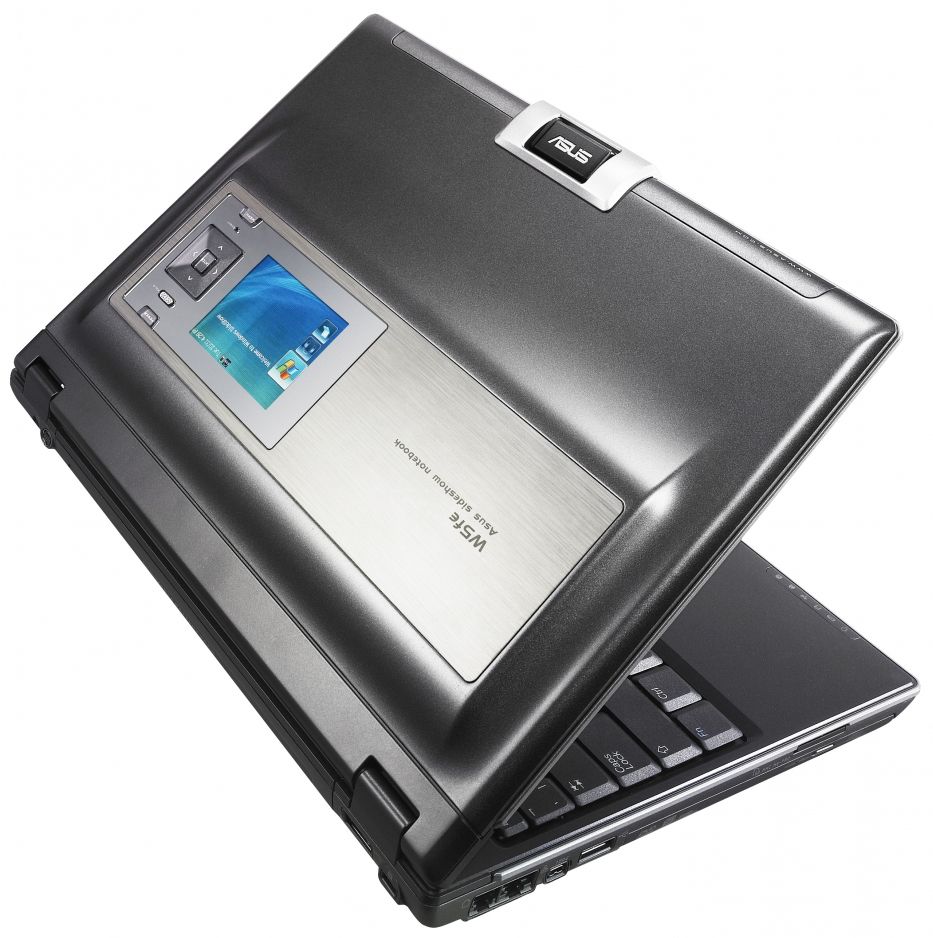 With notebooks, Microsoft attempted to introduce way more unconventional software media standard in addition to the Media Center. Introduced in Windows Vista, the SideShow was a standard for low-resolution auxiliary displays embedded into computer cases. With notebooks, the idea was to let users interact with a computer as its lid was closed, either by reading notifications on a two-line screen or using the larger screen as a media player.
Developers have envisioned other use cases for Windows SideShow, including connected photo frames, detachable media players, and mobile phone sync. None of them, for some reason, involved front panels already used by barebone PCs.  what was already done by barebone PC manufacturers.
Home Entertainment Shifts Away From Computers
As the PC world waged a war on home appliances, Apple (which, in 2004, was making computers on a PowerPC silicon) introduced Front Row, its own take on a concept of a made-for-TV interface. While it was used in the first-ever Apple TV and was itself a good reason to include a fancy iPod-like magnetic remote with the iMac G5, it lasted way less than Windows Media Center. In fact, as Front Row was dropped four years before the Microsoft solution, even SideShow managed to outlive it by two years.
It does feel strange to see the company the iPod and iTunes playing catch up with Microsoft on a media field. But it the end, it's Apple and streaming services who ended up winning, not Microsoft's pocket versions of the Media Center.
The core idea of a "media computer" as some sort of home entertainment server was pushed out of the mainstream by Netflix, Spotify, and other on-demand services. Once smartphones and mobile web became popular, the whole concept of a home PC as defined by the 1990s landscape folded in on itself. Finally, TVs and home appliances became more self-sufficient, and caught up with PCs in features which mattered. And while the overreliance on streaming comes with its own disadvantages, the public has made its choice.